You can only be successful, when you love what you do
You may have thought about your career options several times, but did not get to a final decision yet. There are many apprenticeships out there, where you can invest your strengths in. But deciding for the right profession and the best fitting company is not easy and often a gut decision. Only after your mind and gut say yes to Gerresheimer, you should apply. Because we seek for talents that love their job and prosper in their work.
Our programs usually start on September 1st.
During your apprenticeship you go through lots of different stages. Thus, you will gain a broad understanding of processes and a good overview of the company.
You will be mentored intensively: from your trainer and from qualified experts in the divisions. You will have concrete learning targets.
At every location and division you will work in a cutting-edge working environment with the newest machines and many industry 4.0 gadgets.
Should you decide for a technical apprenticeship, you will gain a manual guidance first within our training production before entering the real production world.
Are you adventurous and do you love to travel? We invite you to join our early business trips and assembly work.
With our program"Apprenticeship Worldwide", supported by the Federal Ministry of Education and Research (BMBF), you can plan a stay abroad already. Maybe in Peachtree City in the US? We always train according to our German standards.
We value a practical apprenticeship where you take on responsible tasks quickly.
We recruit according to our needs so our hiring rate of our apprentices is nearly 100%.
After graduating from your apprenticeship you will still benefit from targeted development trainings.
Apprentice in the commercial area, Essen
"The apprenticeship at Gerresheimer is very versatile and I am able to establish lots of contacts. Moreover, you learn very early, how to take on responsibility."
Apprentice in the commercial area, Essen
"My apprenticeship at Gerresheimer is diverse and very practically oriented."
Apprentice in the technical area, Wackersdorf
"The apprenticeship is very exciting. I receive a lot of trust and whenever I have questions, I get a clear answer. I always feel to be in good hands."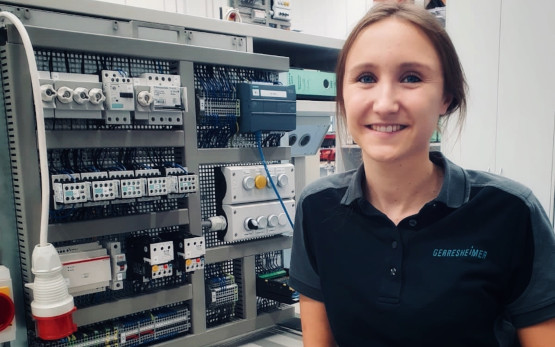 Apprentice in the technical area, Wackersdorf
"I was able to attend the assembly at home and abroad. Thus, I quickly gained deep insights into the everyday working life of my colleagues and learned something new each day."
Trainer, training center Wackersdorf
"Learning is like rowing against the current, as soon as you stop, you drift backwards. Our training team supports you in achieving your goals."