Packaging of diagnostic and medical devices
More than just packaging
Gerresheimer Medical Systems provides you with everything from one source, including the optimal packaging, which fulfill all requirements with regard to product protection, storage and transport capability, as well as user-friendliness. Like the production and assembly, we also coordinate the packaging of your diagnostic product or medical product individually to your requirements.
Your PLUS with Gerresheimer
Product-specific packaging options
With the packaging in the blister pack, in the transport tray (disposable and recyclable), airtight aluminum pouch (protection from moisture), sterile packaging, in disposable and recyclable packaging, in the Tyvek pouch (ethylene oxide and gamma-sterilizable, steam-sterilizable up to 125O) or in the special clean room pouch, a number of packaging options are available to you.
Full service also for packaging
Challenge us with your own individual packaging wishes. We assume responsibility not only for the product and country-specific final packaging in cartons, but also insert operating instructions or other product information.
Cleanliness and quality for your products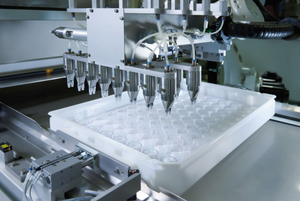 With the packaging, too, we pay attention to fulfilling the strict requirements of the diagnostics and medical product industries for quality and cleanliness. Our systems ensure placement in special transport trays that is gentle with the product. The use of specially washed trays thereby adjusts the number of particles to the prescribed specification. Like production and assembly, packaging at Gerresheimer can also take place in the clean room.
Fully automatic packaging systems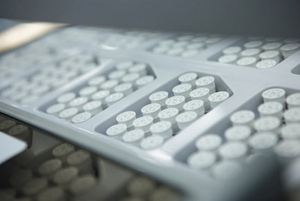 We have fully automatic packaging systems that we can configure specific to the product as needed.