Düsseldorf/Paris, September 02, 2014 – What can the new production line for the famous Gx RTF sterile syringe systems do? How do syringes satisfy the diverging requirements of the biotech and ophthalmological medicines? Why is quality by design an indispensable aspect of pharmaceutical primary packaging development? The Gerresheimer experts will be providing interesting insights into these topics to visitors at CPhI in Paris. It will also be showcasing product highlights such as the versatile Gx RTF sterile syringe system.
A new glass syringe production line
Gerresheimer is famous for its versatile Gx RTF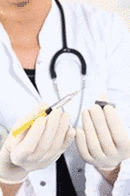 sterile syringe systems. Now it has installed its fourth production line for ready-to-fill syringes in a brand new production building at the Gerresheimer Syringe Competence Center in Bünde (Germany). Key process improvements include the avoidance of glass-to-glass and glass-to-metal contact through the use of pick-and-place robots and segment transport systems, optimized washing and siliconization processes and more effective, camera-based quality inspections. "The improvements to the production process as a result of the new line enable us to manufacture glass syringes in outstanding quality," said Claudia Petersen, Global Director Marketing & Development Syringe Systems.
"The applications for ready-to-fill syringes are becoming increasingly diverse", said Bernd Zeiss, Technical Presales Support Manager at Gerresheimer Syringe Systems. In his presentation he demonstrates how Gerresheimer manufactures customized syringe systems for many kinds of applications from biotech to ophthalmic.
Quality by design in the development of pharmaceutical primary packaging
"We collaborate closely with the pharmaceutical manufacturers during the development phase so that we can integrate our product and process know-how in the design," said Marek Miszczak, R&D Manager at Gerresheimer Plastic Packaging in his presentation, explaining how Gerresheimer gears its business processes to customer requirements and pharmaceutical standards by way of quality by design.
Further highlights at CPhI:
Autoinjector for a leading pharmaceuticals company
Gerresheimer manufactures a drug delivery

device for a leading American pharmaceuticals company. The plastic parts are produced by Gerresheimer, then made into two subassemblies for final assembly and filling on the customer's premises. The pharmaceutical drug is for the treatment of medium to serious active psoriasis arthritis.
Safe plastic containers for special medications
Gx MultiShell vials made of COP (Cyclic Olefin
Polymer) are a special product because although they have glass-like transparency, they also have a far higher break-resistance than glass, which makes them very safe to use. That's why they are ideal for biopharmaceuticals and oncological drugs.
This year's CPhI venue is the Paris Nord Villepinte Exhibition Centre and it takes place from October 7 to 9. Gerresheimer's booth is number G55 in Hall 2. The pharma experts at the stand will be advising existing and potential customers on standard products and customized special packaging solutions in glass and plastic.
Links to further information
Gerresheimer Plastic & Devices
Gerresheimer Primary Packaging Glass
About Gerresheimer
Gerresheimer is a leading global partner to the pharma and healthcare industries. The company's special glass and plastic products contribute to health and well-being. Gerresheimer is a global organization with 11,000 employees and manufacturing operations in the local markets, close to customers. It has over 40 production facilities in Europe, North and South America and Asia generating revenue in excess of EUR 1.2 billion. The comprehensive product portfolio includes pharmaceutical packaging products as well as convenient and safe drug delivery systems such as insulin pens, inhalers, pre-fillable syringes, vials, ampoules, bottles and containers for liquid and solid pharmaceuticals with closure and safety systems, plus cosmetic packaging products.
GX, Multishell and RTF are registered trademarks of the Gerresheimer Group.
You can download photos on this topic from our homepage. If required, we can also send you high-resolution data. Reprint free of charge. © Gerresheimer AG