Gx® Prefillable Glass Needle Syringes
Gx® bulk and Gx RTF® format
We offer an extensive portfolio of prefillable glass needle syringes that are adapted to the current requirements of the pharmaceutical industry and fulfill the requirements of modern filling systems. The glass syringes with glued in cannula are available as bulk goods (Gx® bulk) or in "ready-to-fill" format (Gx RTF®). Syringes can be provided as a complete system with plunger stopper, plunger rod and backstop. Various options for siliconization and printing complete our offer. A Drug Master File Type III is available.
Your PLUS with Gerresheimer
Gx® bulk and Gx RTF® format
Gx® bulk needle syringes are washed, sterilized, and filled by the customer. For this form, there is a division of labor between the primary packaging manufacturer and the pharmaceutical industry where we provide the unsterilized syringe bodies in flat trays (Rondo trays).
Gx RTF® needle syringes are washed, siliconized, pre-assembled with needle shields or tip caps and sterilized with ethylene oxide (EtO) by Gerresheimer Medical Systems. This means we deliver the prefillable glass needle syringe completely prepared for aseptic filling.
Gx RTF® syringes are packed in nest and tub for easy handling and filling. These nests are suitable for all usual filling systems. Gx RTF® syringes are nested by:
100 nest (10x10) for 0.5 ml, 1.0 ml long and 1.0 – 3.0 ml
160 nest (10x16) for 0.5 ml und 1.0 ml long
Syringe sizes from 0.5 ml to 2.25 ml (additional formats upon request)
The high-quality prefillable glass syringes are produced from type I glass. The prefillable needle syringes are available in syringe sizes from 0.5 ml to 2.25 ml (individual solutions on request).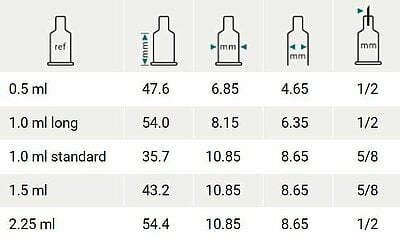 Integrated cannulas in various versions
Our range encompasses stainless steel cannulas of the most varied lengths, diameters and bevel types. They ensure intramuscular or subcutaneous injections with minimal pain. The steel quality of the cannulas used corresponds to AISI 304, the sizes to standard DIN 9626.
Cannula properties:
Siliconization in the RTF process with Dow Corning® 360
Cannula length: ½" (12.7 mm) and ⅝" (15.9 mm)
Diameter: 23G, 25G, 26G, 27G, 29G
Standard and thin-wall cannulas
Bevel: 3 Bevel, 3 Bevel XL, V Bevel®
Various needle shields
The needle shield protects the cannula against deformation up to injection, and keeps the cannula sterile until use. Our range encompasses flexible needle shields (FNS) and rigid needle shields (RNS).
Gx InnoSafe®
Integrated and passive safety system for prevention of needle stick injuries
The integrated passive safety system prevents needle stick injuries and reuse. When being used, the safety system is activated automatically and requires no additional action by the user. Pharmaceutical customers can process the syringes without an additional assembly step on the existing lines in the nested state. The integrated flexible needle shield is available in all customary available elastomers for pharmaceutical application.
Round and cut finger flanges
We offer the Gx® bulk and Gx RTF® prefillable glass syringes with glued in cannula with round (small and standard) and cut finger flanges.
Various possibilities for printing
For the individual printing of the glass syringe body of the prefillable needle syringe we offer the most varied possibilities for printing such as metal-free paints, ceramic printing on glass, various designs of graduation, dose mark, various colors and other options on request.
Syringes as a complete system
Gx® bulk and Gx RTF® prefillable glass syringes with glued in cannula can be provided as a complete system with plunger stopper, plunger rod and backstop.
Needle syringes with reduced tungsten residues
A tungsten pin is used to create the syringe bore in the standard glass forming process. When traces of tungsten or tungsten oxides remain in the bore area, medications based on biotechnologically manufactured active ingredients may have adverse reactions in rare cases.
To reduce tungsten residues in conventionally manufactured needle syringes, we offer our customers the option of subjecting the syringes to an additional cleaning step in a washing machine after the forming of the glass.
Through the combination of water and ultrasonic bath, our internally developed, multi-stage treatment system thereby reduces not only the tungsten load dramatically by 90% on average , but also brings down the load of glass particles by up to 90 percent.
A further option is the use of plastics like Cyclo Olefin Polymers (COP) as syringe material. The production process has no potential for tungsten residuals. Our prefillable needle syringes of COP are therefore also exceptionally well-suited for the packaging of highly sensitive medication.
Method for detection and limit value for glue leachables
Syringes with glued in needles have lower loads of tungsten residues because the UV-hardened glue seals the sensitive syringe area. However, glue residues can nonetheless leach from the glue. We have optimized our production process reducing these residues, and additionally we offer a method for detection and a limit value for glue leachables.
Tailored, customer-specific solutions
Please approach our development team to design your individual solution for an application system that is tailored to specific active pharmaceutical ingredients and areas of application.
Primary packaging and drug delivery device from one source
Prefilled glass syringes are increasingly used in auto injectors or are equipped with safety systems against needle stick injuries. We have responded to this complex requirement profile by combining our know-how in glass and plastics with the creation of the newly defined Medical Systems business unit.
We have an established track record realizing customer-specific solutions in both glass and plastics. With our new team we are able to access an even broader base of experience in order to offer tailored solutions for increased medical technology challenges. This gives our customers the possibility to develop, together with our experts for glass and plastics, a distinctive syringe, an application system or a combination product which is matched to a specific agent, area of use and company brand.
Discuss your next syringe and medical device project with our experts!
Product search online catalogue